From June 3rd to June 9th, 2001, I rode my bike in the 8th California AIDS Ride from Ft. Mason in San Francisco to the Coliseum in Los Angeles.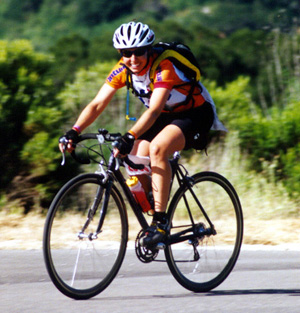 You, my supporters, gave more than $5,000 for treatment and research of HIV/AIDS.
This is my second California AIDS Ride. Inspired by my dearest friend John Andrews, living with AIDS since 1992, I did the ride in 1999. This year's ride was much more poignant for me.

Day 3 of the ride (Tuesday, June 5th) marked the 20th anniversary of the first reported cases of AIDS. Throughout the week, media all over the world took stock on the toll and predictions for this disease. Beyond our personal stories, they gave us a global reason to keep riding.

Day 6 of the ride (Friday, June 8th) was the last day of Jon Lindsay's life. John Andrews life-partner, Jon died of AIDS-related complications. Beyond illness, there is now loss.
This web site is dedicated to my supporters and to Jon Lindsay.
So let's get rollin'. To move through the site, click the "Next" button. You can also jump to a specific place using the "site index" link on the left.
Note: If the pages of the site are just too slow in downloading, go to the Too Slow page for a great option.